Brands continually look for new ways to enhance their customer service and boost efficiency. Technology is offering them loads of opportunities.
One such impressive technology is chatbots which have gained traction in recent years. MarketsandMarkets reported that experts expect the chatbot industry to account for 9.4 billion dollars by 2024, increasing at a CAGR (compound annual growth rate) of 29.7 percent from 2019 to 2024.
You probably want to know whether you have to be a developer to create chatbots, which is why you land here. The good news is you don't need to be a tech expert to leverage chatbot technology.
How? By becoming a white-label chatbot reseller. All your questions will be answered in this piece so buckle up and enjoy the content.
Chatbot Reselling Explained
Chatbot reselling is the act of buying a pre-built chatbot tool from a chatbot provider, rebranding it with your name, and selling it to customers.
A chatbot reseller customizes the chatbot and provides the end-users with a product that matches their requirements. Through chatbot reselling, you can benefit from the increasing need for chatbot solutions without having development resources and technical skills. Instead, you can direct your attention to sales and marketing while leaving the tech-related part to the chatbot provider.
Who Is A White Label Chatbot Reseller?
When a company creates a product/service and then resells it after removing its logo, it is called white labeling. And the reseller is known as a white-label reseller.
One corporation creates the items and grants its license to another one to sell them under their brand names. It lets the purchasing business enter the market without producing the products initially.
The same goes for a white-label chatbot reseller. They save the time and money they would have spent on the merchandise. Another perk for the chatbot reseller is that their current product line gets expanded. They can offer a broader customer experience this way.
How Can You Become A White-Label Chatbot Reseller? 1. Make A Presentation To Pitch Your Product
Create an aesthetically appealing yet compelling deck. It should include all necessary elements such as:
The brief
The need
The prospect
The solution
The product
Monetization plan
Marketing strategy
Competition and value
Team
The budget
Your presentation or slide show should aim to convince the client that chatbots are the ultimate need of modern-day businesses and why it will be profitable to invest in them.
2. Develop A Landing Page
A landing page is a standalone page developed with only one aim of taking users to the CTA (call to action). It is necessary for any business since it is where your prospects will reach after clicking a link on an ad, email campaign, youtube video, and more.
Here are the elements of a good landing page:
Create A Copy That Sells
Write an attention-grabbing headline to hook the reader to read more. Use simple language without any jargon and make sure your copy talks about the page where it will lead. It is important so that visitors don't feel betrayed.
Make A Compelling Call-To-Action
CTA is the most significant part of your landing page and impacts a visitor's decision to move on or leave. So, craft a descriptive, to-the-point yet enchanting CTA telling the user that the page it will lead to contains exactly what they need.
Make sure you don't put distractions around your CTA like headers, footers, links to other pages, etc.
Include Testimonials
More than 90 percent of customers believe in online social proofs as much as they believe in personal suggestions (Brightlocal). Reviews by previous buyers can have a profound impact on a prospect's decision.
How can you add social proof to your landing page?
Case Study
Client's logo
Consumer review and rating
Awards or certifications
Testimonials
Search engine optimization
Your visitors will only be captivated by your landing page if the search engine ranks it in front of their eyes on top positions. So, optimizing for search engines is the first step. You should optimize for meta description, title tag, etc, to help your page rank higher in Google for relevant keywords.
3. Pick A Chatbot Platform
This is the most influencing decision when it comes to the success of your white-label chatbot reselling business. Here is some advice to keep in mind while looking for a chatbot platform:
Go For A Friendly Platform Convenient To Use Account Handling
You would not only resell chatbots but also provide full support to all clients whenever an issue arises, or the product needs an update. For this, your team would need to manage the accounts of all customers, which is a mundane task.
So, choose a chatbot solutions provider that allows you to access all clients' accounts in one central location with one click. This way, your employees will not be wasting their time copy-and-pasting passwords for different accounts.
Growth Is Essential
You should partner with a chatbot platform that believes in constant growth and listening to clients' feedback. Check if your chosen platform has a roadmap.
A road map details the changes a platform intends to introduce in the future, has made, or is working on.
By seeing their roadmap, you will know where that platform would be in the next five or ten years and whether you want to have a business relationship with them.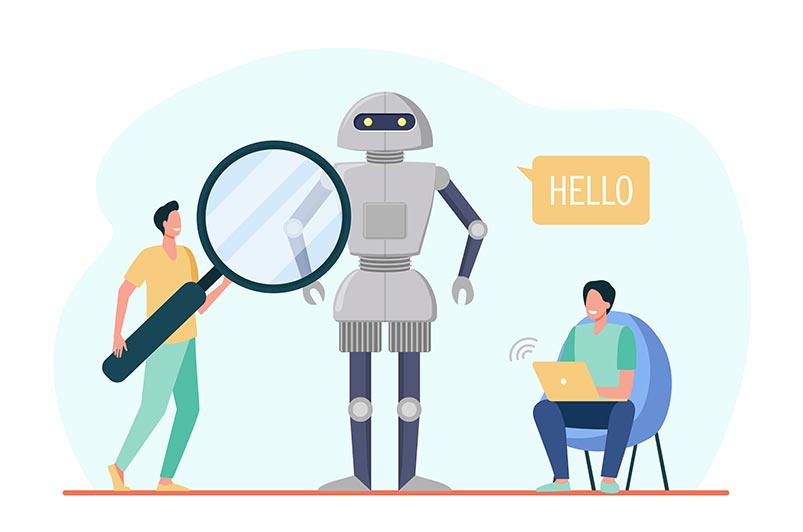 4. Consider Solutions To Resell
Select chatbots that have many uses in marketing and customer support. You need to decide which type of chatbots you want to build and select the ones with the largest market potential to be able to enter bigger markets.
Here are some use cases which can help you earn enormous revenue in less time:
Appointment Booking Chatbots
Many businesses nowadays allow clients to make appointments for their services online. This process eats up a lot of time for humans which is why it has become a major use case for chatbots.
Appointment booking chatbots automate the process while removing human interference. These chatbots can book, reschedule and cancel appointments as per the client's request with zero error and high speed.
Lead Generation Chatbots
These are the most popular type of chatbots as leads prefer conversing first before talking about purchasing. You can benefit from this potentially revenue-generating use case of chatbots by offering it to clients who want to step up their lead generation game.
These bots ask relevant queries, check leads for quality, and schedules sales meetings.
Customer Assistance Chatbots
Customers often ask similar types of queries in different wordings which takes up a lot of time for customer support representatives. By delegating this task to customer chatbots, these people can focus on more specified tickets while bots provide relevant information to clients without human intervention.
These bots can take orders, generate leads by processing user information and use databases to provide relevant material. They are available 24 hours a day.
Boost Conversion through Google Ads
Chatbots is designed to converse in a pleasing way that satisfies customers more than a human who answers similar queries daily. Therefore, businesses are increasingly employing chatbots to boost the conversions of leads that come through Google ads.
You can offer chatbots that provide a combination of solutions like appointment booking and client support or lead generation and ads conversions.
5. Demo
You have a compelling landing page ready, a deck with all necessary elements, and a well-functioning chatbot, are you all set to go? No, until you show a demo to your clients, they won't be willing to buy from you.
So, drawing on the basics of human psychology, you create a demo to convince clients that your solution will work. Prepare a demo with features, functionalities, and scenarios regarding your chatbots to remove all doubts from the clients' minds.
Wrapping It Up!
It's a great decision to start working as a white-label chatbot reseller if you are not a developer and can't afford the resources to create your products.
White-label chatbots can also be a good product for your business if you are a software solution provider company or an individual with a client base.
As the demand for two-way communication mediums with clients and firms is increasing, the need for chatbots is elevating, and you need approaches to acknowledge them.
To sum it up, you can resell white-label chatbots and make it a financially satisfying and lucrative journey if you can invest time and energy to cultivate a successful business. We tried to help you by walking you through the steps to become a white-label chatbot reseller by drawing on our experiences in the field.
Happy chatbot reselling!
FAQs (Frequently Asked Questions)
1. How can you monetize chatbot products?
Ans. To make money through reselling chatbots, you need to choose a business model. Most chatbot resellers have one of the two basic business models — a monthly subscription and a batch of hours.
2. Does reselling white-label chatbots increase the time to market?
Ans. White-label chatbot offers the business the first mover benefit because they can resell chatbots to their customers in minimum time.
3. Why should your company think about reselling chatbots?
Ans. There are multiple advantages of reselling chatbots:
Businesses want to buy chatbots to incorporate automation in lead generation, and client support.
Chatbots enable them to earn more money in return while investing less.
They offer new revenue opportunities.
Chatbots are ready-to-use products that decrease risk and save time.
They increase the number of clients in less time.
They allow to speed up time to market.
4. Are there specific industries where you can resell white label chatbots?
Ans. You can offer your white-label chatbots in many industries, but chatbots can be most beneficial to some. They include healthcare, marketing agencies, and real estate.