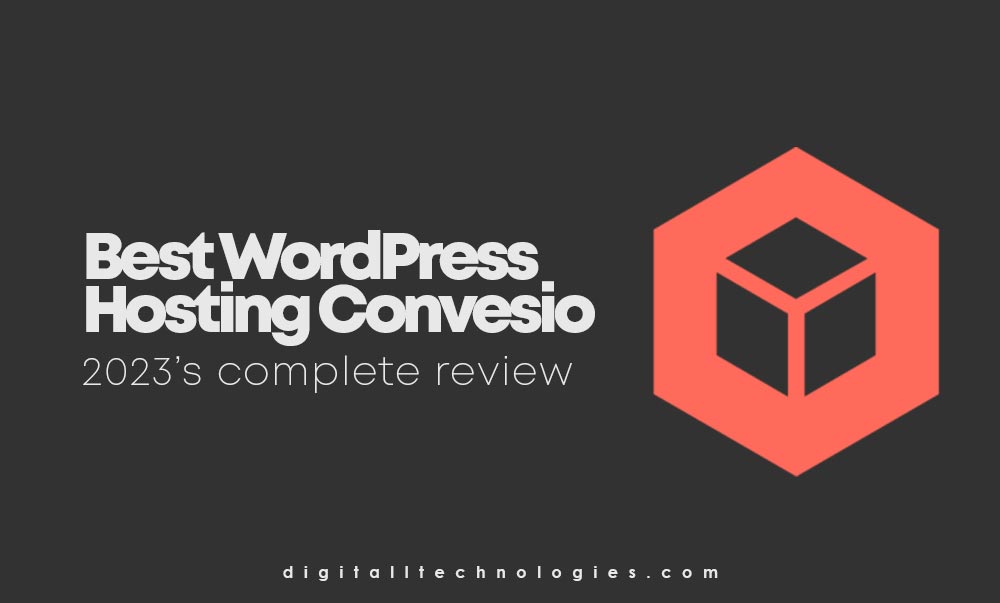 WordPress is easily the best content management system used across the world. Its ease of use, customization, and SEO-friendliness has allowed it to make a place in website owners' hearts.
If you are thinking of switching to WordPress from another CMS/platform, you need a web hosting service provider.
You can find several low-quality web hosts in the market, but we will tell you about the best WordPress web host to use in 2023. But first, let's understand the concept of web hosting.
Web Hosting Services Explained
Web hosting services enable businesses and developers to post a site or page onto the web. A web hosting service company is a service provider that offers the technologies required for the site or page to be seen on the internet.
The specific systems where you store or host websites are called servers. When a user needs to see a website, they enter the site's address into their browser. Their PC will then link to the site's server, and its web pages will be sent to them via the browser.
Most web hosts need that you post your domain to host with them. If you don't own a domain, the hosting service provider will aid you in buying one.
Introducing The Best WordPress Hosting Convesio
In the words of Crunchbase: "Convesio is the first self-healing, autoscaling, platform as a service for creating and managing WordPress websites."
Why WooCommerce stores in more than 40 countries use Convesio for web hosting services? This blog will answer this question. We will dissect the causes that have led to Convesio's success as the number one wordpress hosting provider.
What Is Convesio?
Convesio is a futuristic wordpress hosting provider developed systematically for safety, functionality, and agility.
It is a web development and hosting platform for digital marketers. Its features include hosting, drag-and-drop builder, email, security, and e-commerce tools.
It is specifically designed for wordpress website owners to help them speed up their site. You can handle and leverage a wordpress setup for the best website functionality even for more visitors.
Convesio helps you increase visitors with the availability of professional design templates. Its improved and automated functionalities may help you handle your company more effectively on the go.
Convesio's Hosting Dashboard
The first step to using Convesio is to make an account and submit the subscription fee for one of their web hosting plans. Once you do it, you will see Convesio's bespoke user dashboard.
User dashboard is among the substantial features to consider when picking a web host for your website because it impacts how you handle your account and manage your site.
Convesio's UI furnishes different types of information pieces on all websites on your subscription package at once. It encompasses available storage capacity, the PHP version used, WP containers, bandwidth use, total visitors, and more.
First Step: Building The Website
The screen that shows on your dashboard right after you signup has a big blue button saying . Click on it to build your new site.
Then, select a content type for the website from three options — Starter L1, Business L2, and Employee.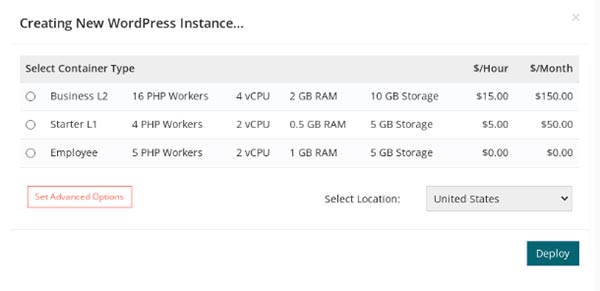 If you want to use a free container with functions such as 2vCPU, 5PHP workers, 5GB Storage, and 1GB RAM, then go for the Employee Container type.
The screenshot above shows the other two Container types, the features they offer, and their fees. After deploying, the software begins developing a new WordPress instance, depending on your selected container type.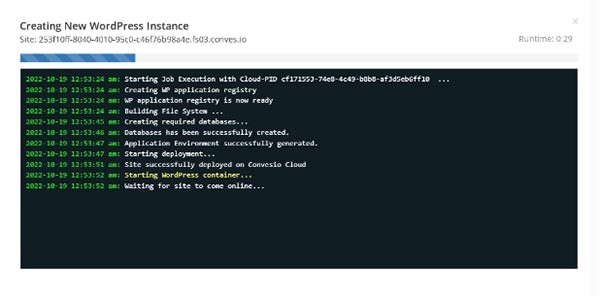 After it is done, hit the button saying . The system will then display the website list that you built.
Second Step: Handling The Website
Congratulations, You have hosted your new site on Convesio, but it's empty right now. The site needs pages, posts, and themes to let you start uploading content. And you need to create your URL or domain.
You see the screen shown in the screenshot below.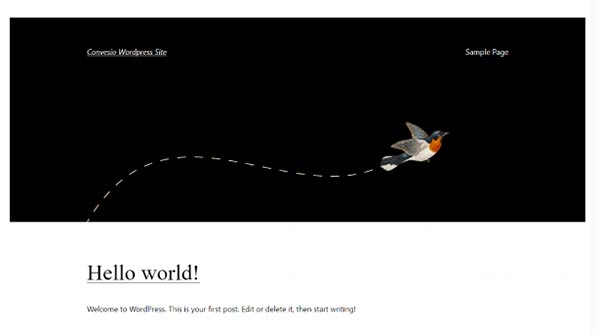 Let's jump to the next step quickly. See your site list and hit the button saying on your selected website. It will display a few options such as Log In to WP Admin, Delete Site, Site Dashboard, Visit Site, and Set Site Name.
Site Dashboard
If you hit the site dashboard button, it sends you to the overview of the site's dashboard, which contains a range of information about your website.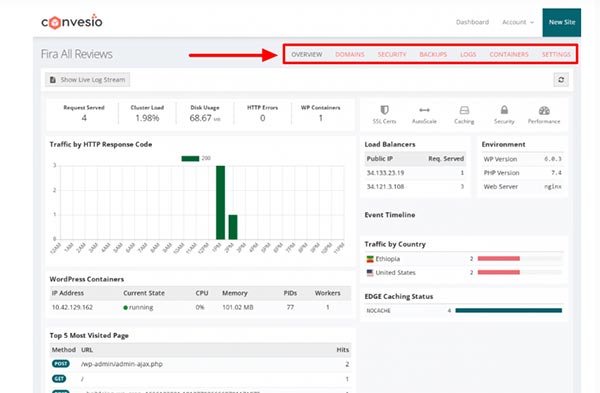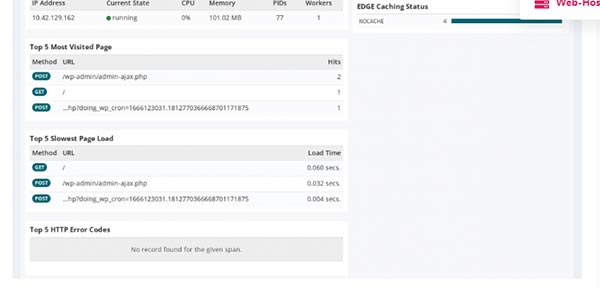 Log In To WP Admin
This option will take you to the admin dashboard of WordPress, where you can select a theme, add extensions, create posts and pages, etc.
We have mentioned above that Convesio's professionals will manage your site's migration for free.
Third Step: Domains
You can easily add a domain from the Convesio dashboard. Hit the button adjacent to your website and then . The screen that follows will show the options list at the top, where you can opt for your site's domain.
After that, a new screen will show saying "add domains". See the screenshot below.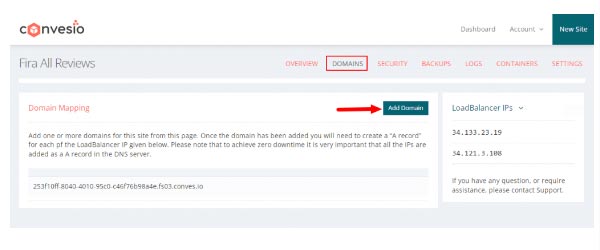 Security
Convesio gives a free SSL certificate along with various top-notch protection practices. It automatically upgrades your WordPress core to the latest version. The security features include particular protection tracking, scanning, and security for wordpress.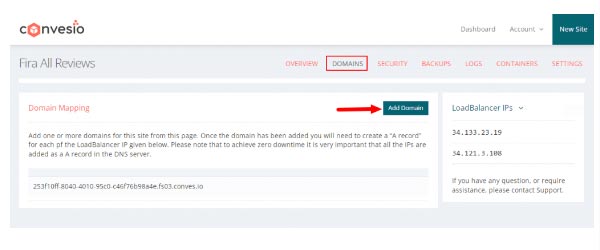 Backups
If your business's main site got hacked or its server collapsed, you would lose all your data, leading to huge income loss.
This is why the platform has developed level-headed backup systems, which you can also use for data restoration. Convesio gives snapshot backups which are backups seized at a particular period that users can utilize to retrieve their data when it is required.
Site Settings
This page enables the user to handle their website with features such as restarting or stopping the website, modifying the site's PHP version, handling catch, handling database, availing SFTP, automatic scaling, and more.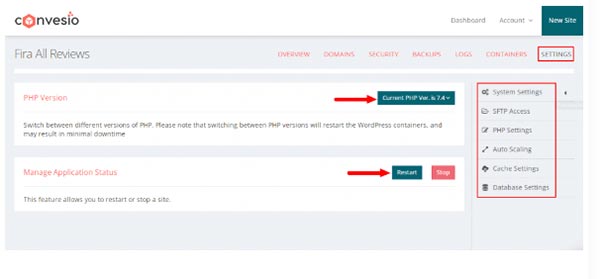 Perks Of Using Convesio
1- Always Functioning Servers
Trusted Uptime
Convesio has load balancer containers that keep its servers always functioning at their best, removing downtime. It gives websites hosted at Convesio an edge over other websites that collapse for hours at a time.
Super Accessible
Again Convesio's robust containers that balance loads make your website highly available to the users.
Safe
Convesio also has in-class security features that protect your website from malware and other threats. It can edit code configuration and environment variables to secure your pages.
Economical
Convesio is performant, which is why it doesn't try to bind customers through contracts. It is highly affordable, and users can switch platforms with a few clicks.
2- The website Is Driven By MySQL Servers
Convesio uses MySQL servers, which are trusted, user-friendly, and functional, making them an ideal option for running a website. MySQL servers come in multiple sizes and shapes; therefore, you will always find one for your needs.
In addition, you don't need to recruit and pay a handsome amount to a database manager because MySQL servers are super easy to use. They have all the features website owners need to operate a successful site.
3- Auto Scaling
Convesio can automatically scale your website's resources, which makes sure that your site doesn't run short of them when traffic suddenly increases.
The resources that it auto-scales include bandwidth and storage. It makes Convesio the best choice as a web host for businesses who want web hosting services that scale with their site.
Its autoscaling depends on various aspects like CPU usage, website traffic, and memory usage. You should employ the simple slider option to auto-scale available resources.
The best part is that you don't need technical prowess or knowledge for this process. Automated scaling ensures that web hosting is highly autonomous and user-friendly.
4- Website Speed
Convesio is founded on amazon web and google cloud services which host and support the website's server-side operations.
Convesio's administration has created data centers in important locations across the world. Each database collection is placed in offices in the United Kingdom, the United States, and Australia.
The speed test results of this web hosting platform are encouraging, with response time being the shortest for areas nearest to data centers.
5- CDN Network Scalability
Convesio is the best choice if your website caters to an audience in various parts of the world. It uses a CDN (content delivery network) to effectively send website content to several servers across the globe.
It allows for super fast speed, thanks to its distributed and scalable nature. Furthermore, Convesio comes with a caching system that its infrastructure manages automatically.
It rids wordpress site owners to download any extra caching extensions. This web hosting platform makes even dynamic pages respond rapidly, which must load all material from the start and are never preloaded.
When someone visits a website hosted by Convesio, they receive site results instantly as the request time is super low.
Plus, the Convesio website remains functional round the clock 7 days a week and is shown without making any issues for the user.
6- Application Monitoring
APM (Application Performance Monitoring) guarantees the seamless performance of apps. It is a group of logging information that helps developers in monitoring app accessibility, resource usage, errors, and functionalities that affect the user experience negatively.
Convesio enables users to track their wordpress websites at the app level. It will instantly report any malfunctioning in your site applications, whether it is on a page or a file.
7- Page Caching Accelerates Data Recovery
Convesio caches your web pages fast to make them accessible to your visitors in real time. Thanks to its dock containers that adjust themselves when traffic increases on one of the servers, it makes copies of examples of wordpress.
But this feature provides a significant advantage — it enables super-fast data self-recovery. You know what we mean if you have ever lost all your site's data and then recovered it from the hosting database.
It is a dangerous and time-consuming task. But Convesio's self-healing feature saves site owners from such dangers.
8- Free Migration
So, after reading about all the perks of taking web hosting services of Convesio, do you want to migrate your site to it? If yes, then you can do it now and for free.
Convesio's experts help customers migrate their wordpress website from another platform to theirs. It saves you from the headache of changing your domain or hosting or the need to recruit someone for the purpose.
9- Automatic Backups
Do you need to back up your site's content regularly? Then, you probably need to change your web hosting service provider.
Convesio offers automatic backups that save your data without you doing anything. It protects your site's content and saves you time and effort.
10- Database Clustering
Database clusters are stored by servers that execute wordpress websites and utilize a MySQL database to allow them. A single server that is operating WordPress can readily handle and render a database cluster.
MySQL is an open-source system to manage databases which enables site owners to build even large databases offered by one server.
Some Disadvantages Of Convesio
Nothing comes without a cost. In the same way, Convesio's best wordpress hosting features accompany a few downsides, which are mentioned below:
You might not be able to afford the wordpress hosting service Convesio as it is pricier than the conventional web hosts.
It is sometimes less trustworthy than regular web hosts, which may cause site downtime or other errors.
The foundation plan can lead to enormous functionality concerns. Still, the more number of containers didn't seem to have much effect, as per some users' experience.
Convesio may modify the document when transforming files if the user hasn't loaded all fonts in Cloudconvert.
Convesio Pricing
Convesio's pricing follows a tiered structure which let users pick the hosting plan that sounds optimum for their needs.
Here are the seven categories of their pricing plans.
$50 per month
$150 per month
$300 per month
$600 per month
$1000 per month
$1600 per month
$2400 per month
Bottom Line
Convesio is a third-party web hosting service for WordPress websites and supplies a straightforward, one-stop-shop solution for companies, big and small.
Their shared hosting plans are great for small firms and bloggers looking for a simple route to start using wordpress. Meanwhile, their managed wordpress hosting plans cater to larger organizations and firms which need features like automated backups, scalable resources, and round-the-clock assistance.
It's an ideal cheap web host for wordpress websites that will offer you an optimized, smooth experience and 100 percent uptime for online presence.
Complete root availability of the server and the option to download various wordpress websites on one account are added benefits of this platform.
It's a boon for wordpress beginners since it offers a free site migration and an anytime money-back guarantee, meaning the user may cancel accounts whenever they want and gain a complete refund.
In short, Convesio offers the best hosting for WordPress websites has its services are fast and trustworthy. The support of an expert team and a range of features make it the ideal web host.
FAQs (Frequently Asked Questions)
1- Does Convesio use a conventional control panel?
Convesio does not use a conventional control panel like cPanel because it is a unique kind of web hosting. It uses tailored applications of GlusterFS, PHP, Percona, and other elements to execute a performant wordpress website.
2- Where are Convesio's servers located right now?
The current geographical locations of Convesio servers are Europe, Australia, and North America.
3- What hosting should I use for WordPress websites?
The best web hosting for WordPress depends on your particular requirements and cost range. But a few options are considered the optimum ones, such as Hostinger, Bluehost, — and, if you can afford, Convesio.
4- Does Convesio offers any affiliate programs?
Yes, there is an affiliate program available on Convesio, and its link is provided at the lowest part of their website. You can read the full details of the partner program by clicking on it.
5- Can I execute my website in many containers?
Yes, you can run your website in several PHP Runtime containers. You should do it from the start if your site needs substantial rendering strength and has numerous features.