In today's highly competitive and dynamic landscape, who would want to venture into the streets for purchasing items? Indisputably, the evolution of the E-commerce platform is a flexible and win-win solution for prospective buyers and sellers who can connect with each other via the Internet. Escalating the traffic and conversions is the objective of every existing online store. However, converting the traffic into paying customers requires extensive e-commerce marketing strategies. 
Strengthening the online presence of your store requires a lot of time and effort. Sound e-commerce website marketing along with effective tactics is indispensable because it helps you build brand awareness and customer loyalty, and ultimately there is an increase in sales. 
Boost Your Online Visibility & Take Your Business To New Heights By Implementing Effective E-commerce Website Marketing Strategies
You can only promote your online presence through advertising in e-commerce. It grabs the attention of people and hence, drives more and more sales for your business. Below mentioned are the marketing ideas all about e-commerce and generating traffic. 
Invest in search engine optimization ( SEO ) –  Your online store appears on top of the search engines such as Yahoo and Google. Working on the off-page and on-page of your store means bringing organic traffic to your business. Optimizing the overall structure of your online store, adding product descriptions, including keywords in the URLs, and managing the content increase the searches and make your presence more visible. 
Run an influencer e-commerce marketing campaign – It helps you reach the target audience and interesting creators collaborate for generating business sales. Influencers like well-renowned celebrities work as brand ambassadors. You just have to pay them for e-commerce website marketing as they are promoting your brand. How often do you see appealing Instagram posts of your favorite celebrities and want to purchase what they are promoting? The promotion of your products and services through Tiktok, Facebook, Instagram, and other social media platforms helps in driving the attention of people towards your brand.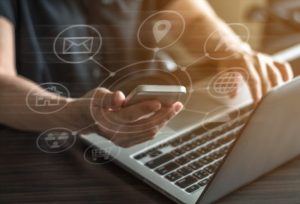 Pay-per-click ( PPC Advertising ) – It is a common yet exceedingly effective type of advertising in e-commerce for both small and large-scale online businesses. It offers a great return on investment, is entirely backed up by data, and is easy to scale. These kinds of advertisements work well for all e-commerce stores as they only target shoppers who are ready to purchase. Facebook and Google are popular platforms for running pay-per-click advertising. You might have noticed that when you search " Women sandals " or any other thing on Google an advertisement pops up showing informative descriptions related to your search. 
Live chat option for engaging the online store visitor – A plethora of live chat tools lets you target the browsers who have searched your page. In addition, it enables you to connect with potential clients directly and cater to their needs and concerns in an optimum manner. 
Reward loyal customers – Focusing on customer retention is a budget-friendly way of improving online sales. By carrying out a customer loyalty program, you can benefit your business as well as your customers. Giving incentives to customers means creating referrals and automated reminders to keep your brand on top of the mind. Knowing all about e-commerce means you must know how frequently and for what actions the customers should be rewarded. Free shipping, discount offers, and buy-one-get-one schemes encourage them to purchase from you. 
Pick the right time for sending emails – When considering the success rate of email campaigns it is wise to focus on the timing. Also, always send mobile-friendly emails. Imagine sending an email with impeccable text and design but as soon as the customer opens it the images are not clear and the text is all scattered. As a result, your subscribers get disappointed and it leaves a very negative impact on your online store. E-commerce marketing is a smart step toward success, and it needs to be done properly. 
Re-engage with inactive customers – You might lose many subscribers now and then if you do not put the effort into engaging them again by sending relevant information, discounts, and offers. Getting back inactive customers is more affordable than acquiring new ones. Think of creative ways like sending ' we miss you ' or ' we are back with phenomenal offers ' messages. Also, always ensure that emails you send are mobile-friendly so that the risk of not opening or spam is reduced. 
The Bottom Line 
Beyond a shadow of a doubt, E-commerce marketing has helped a multitude of businesses grow and earn exponentially. Faster buying process, the listing of stores, products, and services, cost reduction, budget-friendly advertising in e-commerce, flexibility for patrons, product and price comparisons, instant responses, and various payment methods are some of the many advantages of selling and purchasing online. 
FAQs
What are the different types of E-commerce marketing?
E-commerce marketing can be done in various ways but some of the most commonly used types are:
Social Media marketing 

Content marketing 

Search engine marketing 

Email marketing 

Influencer marketing 

Affiliate marketing 

Local marketing 
How do I market my Ecommerce business?
The E-commerce business can be promoted in numerous ways like through email marketing, google advertisements, Facebook campaigns, search engine optimization, and blogs.
How can social media impact e-commerce websites?
Social media plays a pivotal role in allowing shoppers compare the prices and products, and purchase the goods from the comfort of their home.
Does E commerce include digital marketing
Branding your business with digital marketing campaigns can be much more effective than opting for traditional marketing strategies.