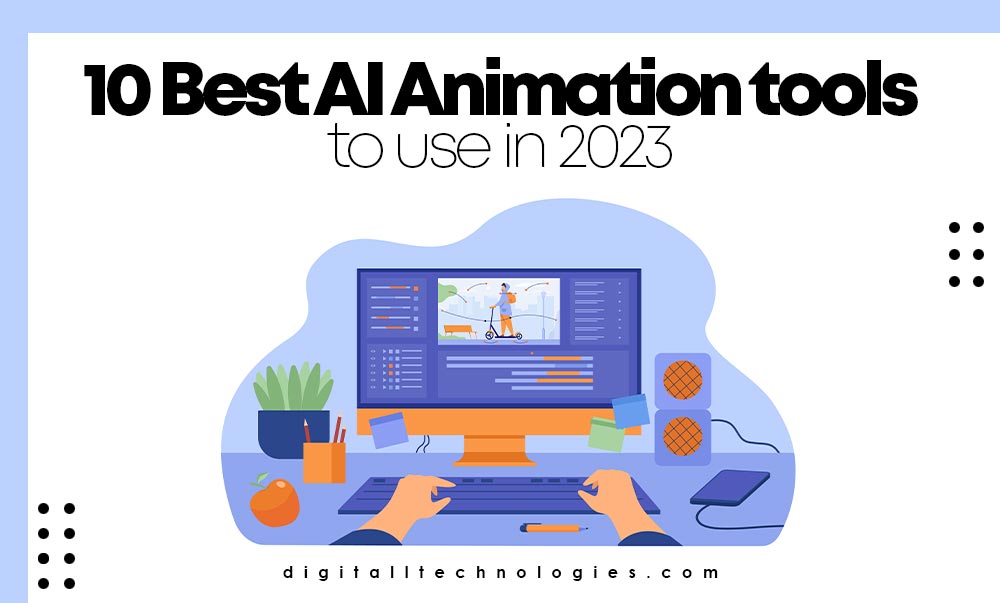 Wondering how to promote your website, product, or service? You do not need to worry about it anymore. We have compiled a list of the most amazing and powerful AI Animation tools.
By using these AI Animation tools, you can increase your customer service by providing assistance 24/7. It will increase your product visibility by engaging users to their desired choice.
These tools will help you in generating animation that will add value to your product or service and will give you a competitive edge in terms of the competition that exists in the marketplace.
Emerging technology has given us an opportunity to learn and explore. Thereby, Monster Mash. Zone, an AI animation tool provides an easy way where we can put our idea in a 3D shape. It provides features like drawing, inflating, and animating. You can access all these tools for free.
It also provides a free help tutorial where you can understand the whole process of using Monster Mash zone. The help tutorial also has video clips to help its users to understand each step with ease. They also have an example gallery where they feature different 3D examples. You may click on any of them to understand the whole process in detail.
Monstermash.zone is always willing to take feedback from all of its users so they serve its customers to the best of its capabilities. They have even created a discussion form for their users where their customers can discuss, provide feedback, or can help another customer. They ensure that they make the necessary changes as per the customers' suggestions.
They also have updated their app with the following additional features:
Creating layers with holes.
Moving layers in depth.
Various 3D modeling software.
Textured animations.
A web-based open-source project that is completely free.
AI algorithms that really can indicate the final product if they get stuck somewhere.
A deeply committed forum for tips and tricks.
RenderForest provides many features that can help to create amazing videos, provides visual graphics, and can help in music visualizations. These powerful features define RenderForest as one of the powerful AI Animation tools in 2023.
RenderForest offers 500+ templates for their customers. Apart from offering a variety of templates, it also has a wide range of styles that give consumers a lot of options to choose from. RenderForest can help in the following ways:
To create videos with 3D animations.
Take 50GB of storage to create videos.
In making business presentations.
Creative brandings.
Logos designing.
Create mockups to increase brand awareness.
Visual graphics.
Help to develop high-speed, optimized websites for clients.
It is user-friendly and can be used by anyone without having any AI related knowledge. Users can explore various options and can choose the one they are interested in. By applying these innovative features, you can enhance your business profits and revenue.
RanderForest has different pricing plans as per the features. Those are listed below:
Radical motion works on creating, sharing, and exploring 3D motion animation. It provides users with the essential tools to turn their ideas into something complex.
Radical motion has segmented its target audience into three types and provided them with relevant AI. They have created real-time animation for all its customers as follows:
Core (community)
Live (early access)
API (enterprise)
Radical motion uses advanced computer technology that can convert 2D content into 3D motion. For instance, you are recording a person on your phone camera. Now you want the moving person into a moving 3D model.
By using Radical motion, you do not have to worry about the lighting or the objects in the background. When you upload the video, the AI animation algorithms used by radical motion will convert the person into a moving 3D model.
Radical motion ensures superior quality by solely working on the subject and ignoring the objects. This feature benefits consumers as they do not have to rent a studio, as they can complete their mission by using this AI application.
The following are the features of radical motion:
Transform 2D content into a 3D motion model
User friendly
Access users through emails and schedule meetings
Use cloud infrastructure to upload videos
Easy to use
Great customer experience
Don't miss out: 11 High-Tech Spy Gadgets That You Should Have
Another powerful AI animation software that can help you to make interactive content for your audience. Moreover, it can also help to boost engagement and increase retention rates.
Squiglit is mostly consumed by educational institutes and corporate organizations. It can help to create presentations for educational purposes, or you can also make an online advertisement for your product campaign.
Squiglit gives you the option to upload your PowerPoint, or you can start from the beginning on this application. Additionally, it gives you the option to record your own script, or you can choose AI voice-over.
The AI animation tools can associate your words with relevant images from an extensive library. These animation tools can add visual effects that will make your content more engaging and interactive.
Some additional value points of Squiglit are as follows:
Can convert text to an animated video quickly
Innovative features and functions
It is convenient for beginners and professionals
You can modify the changes as per your choice
Provide a good user experience
Creates engaging content
Animaker lies in the top-notch AI animation tools. It is truly an amazing application that can help to create eye-catching animated videos in just a few minutes. You can also use the live-action option, where you can add visual effects in live-action videos.
You can use this free app to promote your product or service. Animaker offers a number of different templates that can help you in designing and developing your presentation. Additional features of Animaker are as follows:
Character builder
Facial Expressions
Auto-Lip sync
Complex animations
Gradient background
Customized features
Live video editing
Watermark your content
Subtitle your videos
All these features can help you to optimize your product or service. This can help you to differentiate your brand from others. Animaker can help you to make qualitative and interactive content.
It has the following pricing plans:
Free
Basic
Starter
Pro
Enterprise
Rapidly developing cloud computing offers us the chance to experiment and innovate. As a result, Cascadeur, an AI animation tool, simplifies the process for us to turn our concepts into three-dimensional structures. Cascadeur provides all basic features for animations that help their users to improve their customer experience by creating outstanding content.
Although, Cascadeur provides video lessons, tutorials, documentation, and articles for their users. This earned Cascadeur a higher position in consumers' minds because they knew Cascadeur was willing to help them achieve their mission.
Casadeur provides some additional beneficial features for its users:
Tools for creating custom character rigs.
Next-gen AutoPhysics tool.
Paid pro subscription for commercial customers.
Create realistic models & active scenes.
User-friendly.
Advanced AI animation tools.
It can be used by beginners and professionals both.
Also check out: How Can I Become A Computer Genius?
Vyond was formerly known as GoAnimate and is mostly used by video makers and marketers. It can help you to create professional or branded videos that can help to engage your target audience. Like other AI animation tools, Vyond has a wide variety of templates of different styles. But it has achieved an additional value over other competitors as it helps to create eye-grabbing content for its customers.
Vyond's innovative features are as follows:
1080 high-quality videos created and translated into 70+ languages
Make animated gifs.
Enhancer of speech.
Export and import.
Make your own characters out of your own photos.
Access to a whiteboard, business, and current characters.
Video Sharing in the User Management Panel.
Libraries that are shared.
It can be used by beginners and professionals.
Vyond is a perfect example of effective media. It has the ability to transform complex and boring content into engaging and meaningful content. Vyond has the following pricing plans:
Essential
Premium
Professional
Enterprise
Viderscribe is easy to use and can be used by beginners and professionals. With this animation software, you can create innovative animated videos with different styles. This app can be used to create appealing content for your website or product promotion. It is incredibly famous for its iconic hand-drawn, whiteboard animation style.
Videoscribe can be used in different industries like education and business. It has the following features:
Offers free animated video trial.
Create memorable visuals.
Great customer support.
Perfect whiteboard effects & animations.
Favors all website versions.
GIF templates.
Has a variety of templates.
Infinite canvas.
Options for image and text animation.
Audio and tone recordings can be imported.
Options for video resolution.
Videoscribe has three animated video-making pricing plans:
Monthly plan
Annual plan
Team plan
Rawshorts can help you to create engaging animated social posts and content. It is truly an excellent AI animation tool that can help you by providing digital assistance in any form.
This amazing app can be used to advertise your company's product or service. Rawshorts provides a variety of templates to assist you in designing and creating your presentation. You can make videos with whiteboard animations with visual effects. This will make your content more pleasing to visitors.
You can use this animation software to create unique animated videos in a variety of styles. This app can be used to generate captivating material for your website or to promote your product. It is well-known for its distinctive hand-drawn motion, graphics, and whiteboard animation styles.
Rawshorts has the following features:
Resolution 1080p HTML5 Builder.
Storage capacity of up to 100GB.
Connect to YouTube, Vimeo, Dropbox, and Google Drive.
Options for video formats.
Text-to-speech Scenes.
Use of the media library.
Playlists of music.
Rawshorts pricing plan is as follows:
Starter
Essential
Business
Digitalization is continuously moving on, giving us the opportunity to experiment and innovate. As a result, Doodly, an AI animation tool, makes it easier for us to convert our thinking into three-dimensional structures.
Doodly offers all basic animation features, allowing its customers to enhance their visitor experience by delivering outstanding content. Its collection provides over a million premium images.
It enables animators to choose any photo, place it on canvas, and the software solution will sketch it brilliantly for them. This custom drawing plus the visual effects of this video-making software will enhance your content and will make it more creative. It will also allow users to directly add sound or music files from its collection without paying any extra charges.
Doodly has the following features:
An excellent interface and ease of use.
Produce professional-quality videos.
Create a voiceover for the video.
Purchase royalty-free music tracks.
You will receive a large and impressive media library.
Even if you don't have an internet connection, you can use it.
More than 300+ ready-made templates.
Sketch converter.
Language translation.
Text-to-speech in different languages.
No download or installation is needed.
Conclusion
In this digital era, it is essential for every business to create distinct differentiation in the marketplace. With so many AI tools, it has become easier now, and you can make your content creative and engaging.
Apart from creating a wonderful customer experience and interface, these animation tools will enhance your sales and profits. When you keep your audience engaged with your content, so this will gradually convert your leads into customers.
Using these animation tools will increase your brand awareness and can help you with your promotional campaigns. You can easily create videos to highlight your point of difference. Adding graphics and visual animations will increase your credibility as these tools will make your content more real.
With the new trends in the market, you should really give a try to these AI tools. You can find video tutorials for using these animation tools on their website.
Don't miss: 10 Best Smartwatch Apps To Try Out
FAQs (Frequently Asked Questions)
Q1. Are AI animation tools helpful?
Ans. There are numerous existing templates from which to model your own animation videos. Simply choose one and edit it to your liking.
Q2. Can AI create animation?
Ans. Yes, the 2D and 3D characters are motion-trained.
Q3. Which is the most effective animation tool?
Ans. Animaker is the best AI animation tool. On popular rating platforms, it has the highest customer ratings.
Q4. What software is used for animation?
Ans. For animation videos, you can use the AI tools listed below:
Rawshorts
Renderforest
Animaker
Vyond
Videoscribe
Doodly
Monstermash.zone
Cascadeur
Radical motion
Squiglit
Q5. Can AI be used for animations?
Ans. As AI entered the animation field, it refined and increased the number of different innovative options for animators, filmmakers, and designers. Due to generated animation and 3D animation tools, you can create highly animated content in less time.