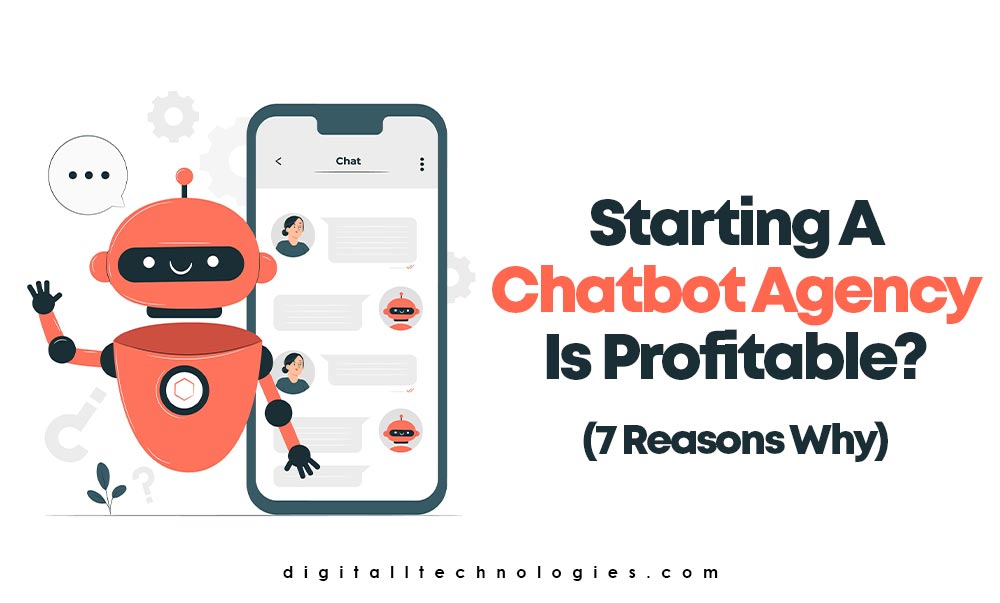 Today, most websites use chatbots. As you land on their page, a chatbot box pops up on your screen. They provide a quick way to find what you are looking for without waiting for a human to respond.
The digital marketing world is constantly changing, and chatbot marketing is its emerging and increasingly famous branch. It rose to fame with the elevation of artificial intelligence and the rising need for personalized consumer experiences.
Today, chatbots are at the front and center of marketing to help businesses engage their customers.
A recent study uncovered that the worldwide chatbot sector worth is anticipated to reach 9.4 billion US dollars by 2024, flourishing at a CAGR of 27.5% during 2019 – 2024.
These figures demonstrate the importance of chatbots in today's marketing landscape. Let's start with a basic definition of a chatbot agency!
What Is A Chatbot Agency?
A chatbot marketing agency creates simple and customized chatbots for businesses. Their end-to-end bot-building programs offer various conversational functions for brands that eventually aid their consumer assistance and streamline workflow.
Also check: 10 Powerful AI Animation Tools
Reasons To Start A Chatbot Agency In 2023
1. Dive Into Conversational Marketing
Conversational Marketing refers to conversing one-on-one with consumers across various platforms, interacting with them, and rapidly transmitting them through the sales funnel.
Do you know that 71% of buyers want businesses to use a conversational marketing bot for real-time communication?
Organizations are using targeted messaging via intelligent chatbots to interact with their consumers. So you can grab the opportunity by starting a bot-building solutions provider company.
The fast boom in conversational marketing shows that it effectively generates leads and engages prospects. So, get the low-hanging fruit before the market becomes competitive and saturated.
Chatbots have made room for a relationship-focused and personalized buying experience rather than the previous impersonal and cold one.
Customers don't have to wait for a human to respond to their queries as an automated system replies quickly. It is why businesses want to provide this service to increase their customer satisfaction.
2. It Reduces Costs
Yes, we know what is going on in your head. The costs! Big question mark! The bot-building solutions can be both expensive and cheap. To make the process cost-effective, you can opt for white labelling.
Become a chatbot reseller and resell chatbot solutions manufactured by other companies. It will save you from the mundane task of creating a bot from the ground up while retaining your brand name.
It is a pocket-friendly option because you don't need to spend money on launching a new product. Your agency doesn't need to hire software engineers to build premium-quality bot solutions and launch them.
3. Helps You Expand Your Product/Services
Do you run a digital marketing agency? Does it offer various tech stack services like CMS, analytics, CRM, SEO, automation software, social media management, email management, etc.?
Then, you need to keep diversifying your product/services range to retain current customers and attract new ones. And what could be a nice addition in recent times than a chatbot?
Yes, adding a new product means finding the right tech tools and then building the product. But you need to add chatbot services to your technological offerings because of their high demand, easy accessibility, and user-friendliness.
Furthermore, it won't take your team months to build such software. Even non-techies can build chatbots using a platform with a no-code bot-builder.
4. Easy Sales
Why do businesses like chatbots? Because they act as an unsalaried sales person who has made them favourites of growth hackers and new advertisers.
And what is more, chatbots are proven to work a lot better than humans at generating leads and supporting customers. Businesses don't even need developers to manage chatbots, as anyone can learn how a bot operates.
After covid-19, chatbots start playing a crucial role in virtual workplaces by providing bot-generated real-time communication. They save money and streamline business workflow in organizations.



5. Application In All Verticals
Healthcare, e-commerce, education, insurance, real estate, finance, and banking — you name it. Chatbots have applications in nearly all industries.
So, it's a strong reason to start a chatbot agency as you have a broad spectrum of industries at your hand to pitch your services.
Industry-Specific Perks Of Chatbots
i. Real Estate: Bot solutions capture leads by directly chatting with them, which renders filling out forms useless. They also screen rental applications, set home staging, and automate customer queries.
ii. Education: Bots are superheroes in the educational industry as they help students in getting enrol and recommend courses. You can pitch to universities to help them pick the brightest students by assisting them in the admission and degree selection process in a chatty manner.
iii. Healthcare: You can start a chatbot company exclusively for the educational sector. Chatbot products are an emerging technology helping hospitals diagnose symptoms and help patients with health reports, prescriptions, appointment bookings, and billings.
They also describe surgical results and suggest further steps to treat the illness.
iv. E-commerce: Chatbots shoot delivery alerts, recommend products, respond to frequently asked questions, and aid in recovering cart abandonment in the commerce sector.
v. Finance and Banking: Bots streamline the internal and external processes in the banking and finance industry. They supply product guidance, enable payments to users, and track scammy activities while giving workers 24-hour access to a FAQ database.
vi. Insurance: The insurance vertical employs chatbots to respond to customer queries about insurance policies and furnishing personalized price packages. Bots also enable premium payments and give account support to insurance customers.
These were only a few use cases we discussed for your interest. However, when it comes to chatbot niches, the sky is the limit.
Your bot company can focus on clients belonging to one or more important verticals and establish chatbot frameworks that you can rapidly tailor for new consumers.
6. Provides Recurring Revenue Stream
Do you think chatbot services are one-time services? Like any other product, bot products need iterations and upgrades over time.
Your bot-building solution provider company can monitor and modify design which will be a constant source of income. It amplifies client satisfaction and becomes a recurring revenue source for your agency.
Firms can add this in their pricing quotes, like offering monthly tracking utilizing the analytics console. The analytics dish out an overview of bot performances via built-in statistics.
Users can view where alterations are required, like the pop-up script, bot messaging, including integrations, etc., and raise their prices accordingly.
Some bot agencies extend bespoke integrations and artificial intelligence plugins to clients. AI bots work using machine learning, meaning they need frequent iterations.
Businesses using chatbots need monthly maintenance of their bots to train and upgrade their AI algorithms. They must figure out user requests and give out apt answers.
Your chatbot agency can include these regular charges in their price package.
7. They Turbocharge Lead Generation
Can bots boost quality lead generation? Don't believe us? Here you go: 55 percent of brands generate premium quality leads after using chatbots.
Your prospects must know how your services can create enormous results for their company. They will save money that they will spend on recruiting and support resources. Training, infrastructure to provide support, and the expenses of salaries — They save money that goes into all these.
Your pitch should include how using bots will help them scale their chat assistance during peak hours and allow new user support approaches.
Bots boost branding strategies and present a uniform omnichannel experience for consumers.
Bottom Line
In a nutshell, starting a chatbot company this year may be a beneficial and intelligent decision. Customers are increasingly demanding automation which elevates the significance of chatbots to engage them.
The industry is still naive and young, which throws a once-in-a-lifetime opportunity towards you to begin providing your innovative services. Your agency will need to make use of avant-garde technologies, offer extraordinary services, and establish lasting bonds with clients.
So, what are you waiting for? The industry is standing in front of you with open arms. Start offering chatbot services in 2023 to make a real impact with your creativity and dedication!
FAQs (Frequently Asked Questions)
1. What are chatbots?
Chatbots are AI-driven tools developed to reiterate human conversation via NLP or natural language processing.
2. What are the common uses of chatbots?
Chatbots are commonly used in messaging apps, websites, and smartphone applications to offer automated customer support, respond to frequently asked questions, and conduct several tasks.
3. How do chatbots understand user input?
Chatbots utilize AI and ML algorithms to figure out user input and offer appropriate responses. They can generate pre-programmed answers depending on particular keywords or terms, use rules, or be more advanced, employing NLP or machine learning to work out and reply to more complicated queries.
4. Can my chatbot agency be successful?
Yes, it can be successful, but success is based on a few aspects:
High-quality bots that offer real value
Having a well-designed and impactful marketing tactic
Providing the best customer service