Facebook has taken the shape of a great source of earning money. Gone are the days when people used to use Facebook for entertainment only. Now, people are monetizing the platform and making a good living out of it.
According to Social Shephard, there are approximately 2.95 billion users on Facebook today. This makes it the largest app in the world. Content made for and shared on Facebook is highly valuable and can turn your investment into profitable revenue.
By making original and authentic content for Facebook, you can also generate money with this platform. It is high time that you start to monetize the platform and earn money from the comfort of your home.
Below, we are going to explain the different ways you can monetize Facebook and how much you can earn through this platform.
How Much Does Facebook Pay for Views?
The monetization policy differs for different forms of content on Facebook. TikTok, a popular social media platform that has introduced the raging trend of reels, is already quite ahead in the race. It has a great payment and monetization policy that has attracted a big chunk of traffic to its platform.
On the other hand, Facebook has recently introduced its monetization policy. So, the question that arises here, is how much does Facebook pay for views?
Facebook pays approximately $0.01 and $0.02 per view of their videos. This amount is variable and highly depends upon the audience demographic, the quality of the video, and the advertiser's demand for the ad placement.
The process of monetizing your content on Facebook requires certain eligibility criteria and you have to meet the requirements. Without it, you would not be able to earn money through this platform. The data collected so far shows that Facebook pays approximately an average of $9 as the cost per impression (CPM).
However, Facebook does not monetize a piece of content until it reaches 1000 views. Facebook only pays when your content has at least 1000 views.
How Much Do Facebook Reels Pay Per View?
Facebook has a program called "Facebook Reels Play" that allows users and content creators to earn money by making short videos. Reels are short videos that are not much longer than 15 seconds. The main purpose of reels is to entertain the audience instantly and engage them in the content.
Facebook pays up to $35,000 per month. It depends on the consistency and quality of the content of the reel. The pay-per-view of Facebook is different from the amount it pays for reels to content creators. This program is a part of Facebook's $1 billion creator investment. It is highly beneficial for creators as it rewards them sufficiently for their quality content.
The amount of money also depends on the views on the reels. The fixed amount for reels is followed by some varying factors such as the terms and conditions of the program.
The eligibility requirements set by Facebook require a reel to be viewed for almost 600,000 minutes in 60 days or less. This will ensure that your reel gets monetized on Facebook.
There is a stipulation in this range that any reel that is reposted, boosted, or has paid watch time, will not be counted in this minute's range. When you accurately meet these requirements, your reel will be eligible for monetization and you can easily start earning from them.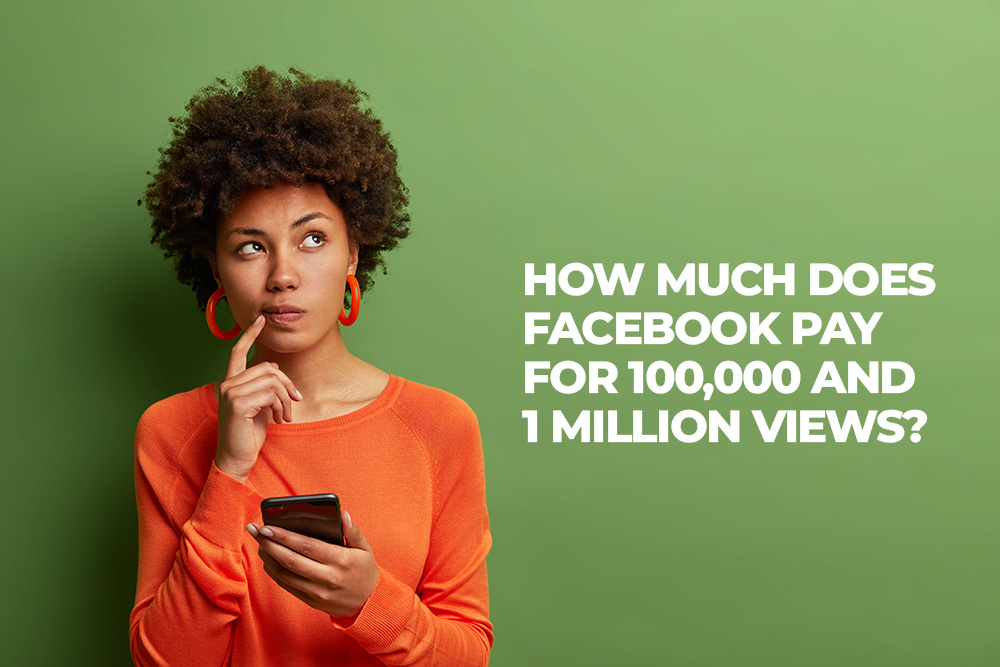 How Much Does Facebook Pay for 100,000 Views?
There is no definitive answer to this question. There are several factors such as country, currency, subject of the content, relevance, and target audience that can have a great impact on the amount that Facebook pays for 100,000 views.
But if we talk about the average, Facebook typically pays between $8.75 and $10 for every 1000 views. So, for 100,000 views, Facebook is paying approximately 875,000 to 1,000,000.
If you strategically place ads in your reels, your content is bound to get more views and engagement. Facebook pays a good amount of $0.94 per click to $12.07 for 1000 views. This makes your ad placements highly important as they will decide the level of engagement on your content.
An average content creator can earn a fair amount of money that will help them in making a living out of this platform.
How Much Does Facebook Pay for 1 Million Views?
Facebook does not have a fixed amount that it pays to content creators for 1 million views. It depends on the payout of ad cost per mille (CPM) and ad impressions. This varies from video to video. The more engagement your content has, the more Facebook is going to pay you.
As we mentioned above, the average pay-per-click is $8.75, we can assume that the effective cost per mille can range from $0.5 up to $10. This way, you can generate approximately $1000 for every million views.
Your content should be authentic and engaging so it can drive more traffic. The more traffic you will receive, the more engagement you are going to enjoy. This will ensure that you are producing good content and Facebook will pay you a good amount.
What's The Average CPC on Facebook?
The average cost per click (CPC) depends on the times an ad is clicked. An average cost per click is between $0.80 to $0.94. Keeping this in mind, the average cost per impression is around $12.07 for 1000 impressions.
Again, this number is variable and can change depending on the content and target audience of the content. The whole game of monetizing the platform of Facebook depends upon the relevance of the content and the engagement level of the target audience. If your target audience is not responding well to the content you are producing, you will not be able to monetize your content.
So, focus on making relevant and engaging content that can eligible your content for monetization.
How You Can Make Money from Facebook (Monetization Methods)
There are many ways that you can make money from Facebook as it provides a lot of opportunities today for creators. However, here we are mentioning the ads that can benefit you per view on your content.
In-stream Ads
These are short advertisements, also known as ad breaks that are strategically placed in the videos. The ads typically appear before, in between, or after the video. You can place your ads on your own or you can leave it and Facebook will place it for you.
This is a great way for you to generate money as your content has more potential to reach a wider audience and that will increase your content engagement. The revenue generated through in-stream ads is divided between Facebook and the content creator. Facebook takes 45% of the share and the creator gets 55%. 
Average Annual Income of Facebook Admins
The average income of Facebook admins varies depending on the complexity of the page they are handling. With different types of content, the salaries also differ because there is a different level of engagement from the target audience.
The more engagement there is on a page, the more content they are going to produce. Therefore, there will be an increased level of engagement from the target audience which will result in an increased income for the admin.
Conclusion
Facebook is providing great opportunities to content creators in the year 2024 so they can monetize their creative efforts. With different payment methods and programs, Facebook allows creators to utilize the platform and become a centre of entertainment for users.
The above-mentioned are some examples of how Facebook is paying for views in 2024. You can also harness the power of this platform and unlock the possibilities of monetizing Facebook.
Also check out:
FAQs (Frequently Asked Questions)
1. What are the ways to monetize on Facebook?
There are many ways that you can monetize content on Facebook. Some of them include but are not limited to in-stream ads, branded content, fan subscriptions, crowdfunding, etc.
2. How can content creators increase their revenue on Facebook?
As a content creator, you should focus on making original and entertaining content so you can increase your engagement which will result in increased revenue.
3. What is the minimum number of views required to earn money on Facebook Pay for Views?
Your content should have at least 60,000 minutes of total watch time on the original content in 60 days. The minimum number of followers is 15,000 for the qualification of Facebook ads.
4. How often does Facebook pay creators for their views?
Facebook pays creators regularly depending on the views of their content. After the content is posted, Facebook tracks the content for 60 days and then pays the creator.
5. What types of videos are eligible for Facebook Pay for Views?
There are no eligibility criteria for Facebook Pay for Views. All videos that meet the eligibility criteria of Facebook are eligible for Facebook Pay for Views. The content should be original and should follow community standards.